Security Manager Resume Sample
The demand for the position of security manager is increasing every year according to the portal salary.com. This position requires a lot of responsibility because it involves interaction with inside information, protection of data privacy. And in fact, it is quite difficult to determine what exactly to write on the resume. ResumeEdge is ready to help with this daunting task. We have a lot of experience in creating a resume that will attract a recruiter so you can get a call back. To confirm our words, we have posted a sample resume of a security manager from our real practice.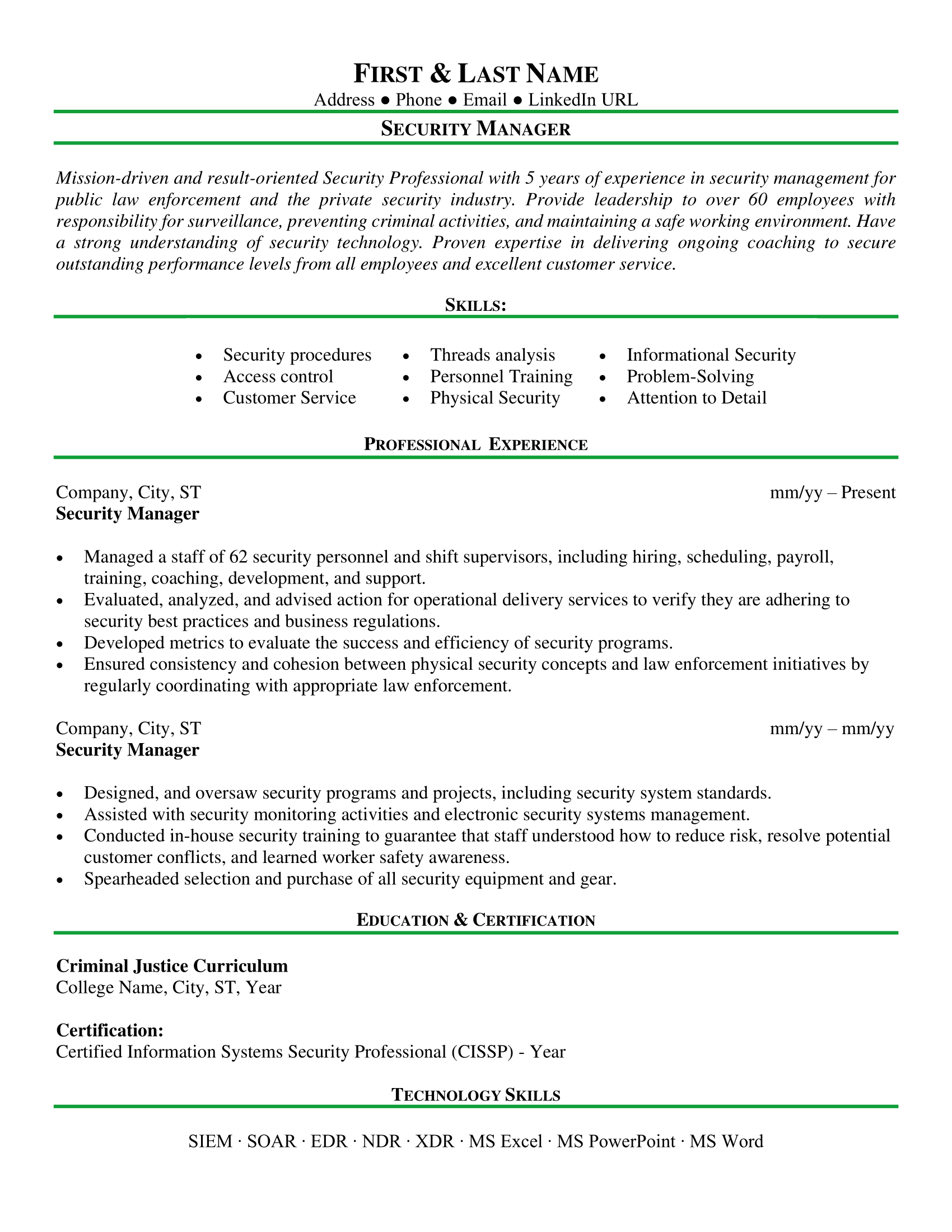 The average salary for such a person is $ 95,000 per year. However, more experienced and advanced managers who can prove themselves can earn up to $ 127,000 a year. Often from the position of a security manager, people move to the higher one, for example, a security director, and the annual salary increase is about 36%. However, the most popular and most paid position is by far the cross-platform security manager. Here, the salary increases by 63% if you get promoted from a security manager position. No wonder that a lot of job seekers want to start a security manager career.
With such a lot of competition, recruiters are looking for people who can prove their professionalism as a security manager and get promoted in the future. Therefore, creating a structured, clear, and attractive resume becomes almost the most important task. Usually, a recruiter takes even less than a minute to accept a resume, or, conversely, to discard this document and not return to it anymore. So it is very important to make your resume eye-catching and special in the best way.
The security manager does not have one specific task. This job can be described as challenging and stressful, with a strong focus on responding to emergencies. This is a leader who has established knowledge in the analysis data and can lead the guards and officers. Moreover, it is the person who is responsible for reporting in case of breaches, and also controls the budget for various security operations. And the most important part of this work is the coordination of security during specific events. This requires colossal skills in logic and even tactics. Looking at the versatility of a security manager, we can say with certainty that this position is unique and irreplaceable. And in fact, it is quite difficult to determine what exactly to write on the resume.
How to make your Security Manager resume successful and memorable?
To make a cool resume, you need to look from the point of view of a recruiter. This person probably reads a lot of such applications every day and you need something catchy. We are ready to share with you basic tips when creating your resume.
Create a short summary that will give the recruiter an idea of who you are as a professional. There is no need to burden the description with bulky, pompous structures. They make it harder to read your resume and get bored very quickly.
Place the convenient contact and email form so that you can be contacted.
Showcase an objective description of your skills mentioning not only literacy and punctuality but also those character traits you are confident with.
Demonstrate a short description of your work experience and main responsibilities
Indicate any achievements that, in your opinion, may affect the success of the resume itself. As a plain sample, you may include achievements that made you stand out in your previous job.
Create a document that meets the requirements of ATS.
Make sure that your resume sample is made in simple and clear text format
Now you have roughly learned what exactly you need to do for your resume example to be read. However, it is difficult for one to evaluate it from the outside, to check the errors, and to indicate the correct path. Our company is ready to help with this and improve your resume so that you get more invitations to interviews.