Resume Writing Service
Gain an edge over competitors with a winning resume
We will match you with an expert who knows your job industry and can create a powerful resume to achieve your career goals.
Get started now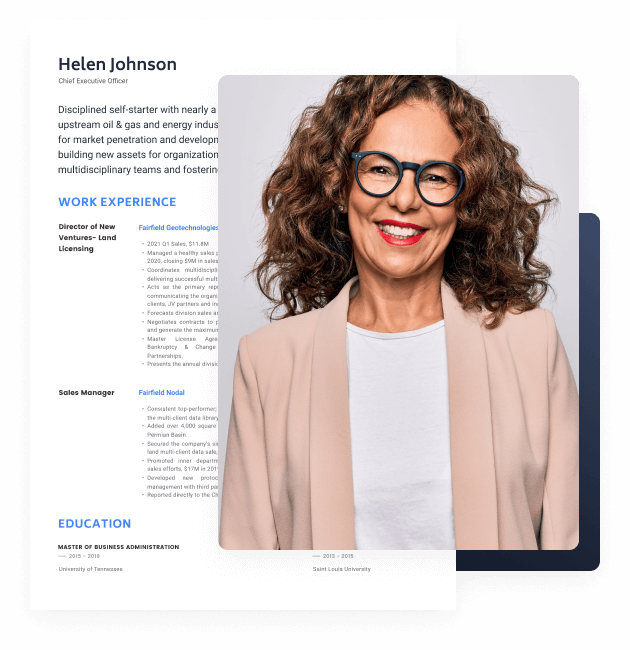 Our clients landed jobs at top companies
You get with us
Professional services

We offer all supporting documents writing you may need for a job application. Our team of experts creates top-notch resumes from Entry to Executive levels.

Affordable price

Service cost is fair as it is counted according to your professional level and depends on the deadlines set. The bigger is the deadline - the lower is the price!

Certified writers

Our professionals strictly follow resume writing rules and keep up with latest job hiring trends. All the experts are certified by PARWCC and Resume Writing Academy.

Guarantees

We work with clients until they are 100% satisfied with their final products. Free revisions and interview invitation guarantee are available for 30 days.
Our services
Choose the service to get noticed by recruiters faster
Pricing plans
Increase your chances to land a job with our packages
Most popular
Professional
Resume Writing
Cover Letter Writing
LinkedIn Profile Writing
Go to order
Advanced
Resume Writing
Cover Letter Writing
LinkedIn Profile Writing
Thank-You + Follow-Up Letters
Go to order
How it works
Take 3 easy steps to get your job-winning resume

Step 1
Send us your instructions
Complete the order by filling in your order and payment information. Send us your instructions and attach previous resumes or other documents.

Step 2
Communicate with a resume expert
You start one-to-one communication with your resume writer via our messaging board.

Step 3
Get your order
Receive your top-notch resume and other documents strictly to the deadline.
Send us your instructions
Complete the order by filling in your order and payment information. Send us your instructions and attach previous resumes or other documents.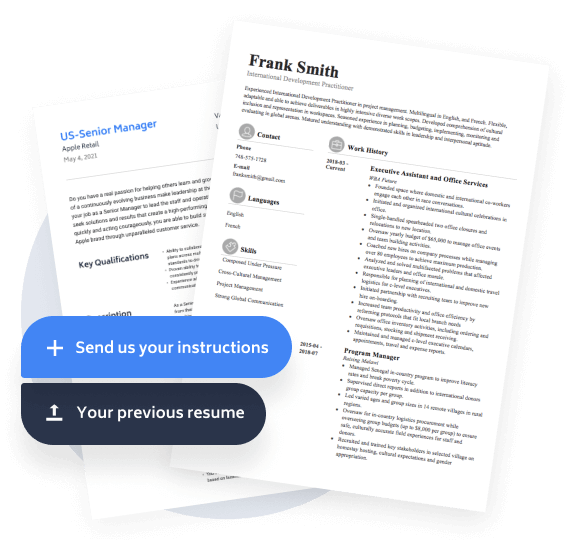 Communicate with expert
You start one-to-one communication with your resume writer via our messaging board.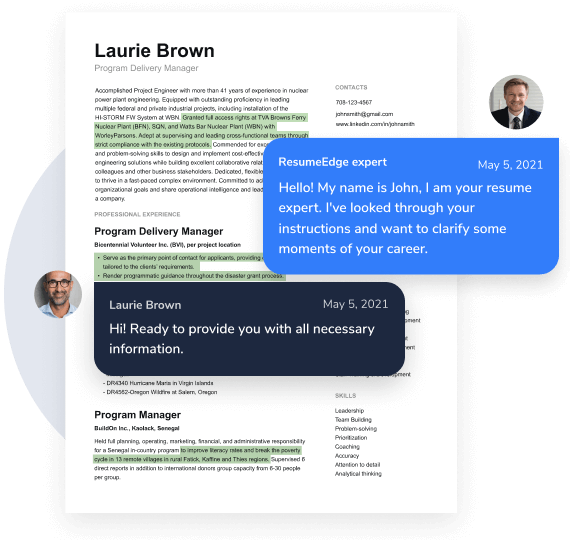 Get your order
Receive your top-notch resume and other documents strictly to the deadline.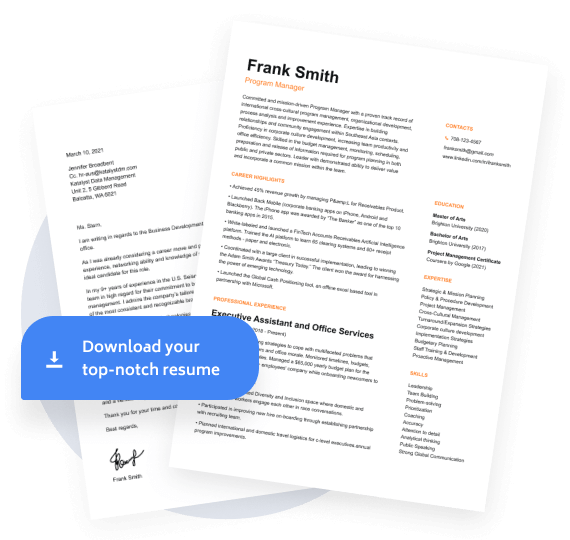 Our top specializations
Executive

It

Engineering

Nursing

Military to Civilian

Federal
The average time to find a job is 9 weeks. Due to our clients feedback they landed it 2x faster!
Well-done resume.
My colleague recommended me resume edge. I ordered resume and linkedin profile writing. My writer was well-qualified and communicative. As a result, I received a well-done resume and linkedin. Definitely can recommend resume edge service.
"I couldn't get job interviews for the director position in top companies, because my resume was too extensive. I was suggested to cut some information and demonstrate my main achievements. I hired ResumeEdge and my writer created a brilliant resume for the director position. I've got the desired job!"
"I needed extra resume editing and cover letter writing for the Executive Sales Manager job application. I liked how my writer Kate tailored the resume to the application and changed the template to more bright. Thank you, ResumeEdge, for such professional work with tight deadlines."
"My previous resume seemed a bit out of date. That is why I decided to order a resume writing on this site. The older resume was analyzed and changed completely. I have never thought that my skills and experience could be portrayed in such a beneficial way. Highly recommend this service."
Extensive work experience
I was looking for a potential job in a big multinational company in Germany in the tourism or hospitality business. I found a new job and want to thank my writer again for her expertise and useful recommendations.
"Having 25 years experience in embedded software/firmware I was looking for a software lead/architect role. My writer Kate met all the instructions. I was satisfied with the results after receiving the first draft of resume and cover letter. Thank you."
Got that job
I ordered KSA Responses as it was required by my prospective employee. My resume writer very accurately described my knowledge, skills and abilities for the management analyst position. I got that job! Thank you!
"I was looking to focus on the areas of HR and Project Management. I have worked in many different industries and wanted to combine all my relevant experience in one resume. As I didn't have a preference, I relied on my writer completely. He has written a great resume that I liked just from the first glance."
"As a veteran with more than 35 years of service, I was looking for professionals who could narrow my extensive experience into 1-2 page resumes. It was a very challenging job as I hadn't had a resume before and could share only my transcript. But my Writer Joan did an outstanding job with it. I've got a project manager job in the IT company."
Of resumes are dismissed by recruiters due to typos
Of recruiters reject resume because of spelling errors
Of resumes don't pass ATS and are not seen by recruiters
Frequently asked questions
ResumeEdge Services
History and Values
Writers
Prices
General Questions
Resume Editing
What is resume writing service?
Writing a great resume is the first and essential step you have to make while on your job search journey. Our writers will take your career, skills and education history to create your strong professional profile within a 2-pages document.
Resume is all written from scratch and based exclusively on your knowledge and abilities. It doesn't matter what level you are or how much experience you've had. Our experts will do their best to gather your strongest professional features to write the Resume that will attract recruiters to you immediately.
What is resume editing service?
In case you feel you already have a resume but feel like it could use a little polishing, we are ready to help you with that. Our experts will look into your resume and upgrade its structure, content, design — any part that would help you take your resume to the next level!
What is a cover letter writing service?
A cover letter is a wonderful addition to a resume as it helps to expand the information about yourself and increases the uniqueness of your job application. With the help of our professionals, you'll design individually suited to your needs and to each position you wish to apply for.
What is a LinkedIn profile writing service?
Having a LinkedIn profile is a must for career growth these days. Our service can help you craft your LinkedIn profile, from the photo to the recommendations, creating a comprehensive social media profile and building your online presence in your professional field.
What is KSA responses writing service?
We will help you describe your knowledge, skills, and abilities in the way that most suits you. By creating a simple yet meaningful KSA response, you'll demonstrate your professionalism, securing the trust of your future employer and adding that final hit to secure your next job position.
Who is the service best suited for?
While our main focus are C-level Managers and Directors, we are ready to build an equally astounding resume both for trainees and for CEOs. During 23 years in business, we've dealt with thousands of various career paths and know well how important it is for an experienced professional to have a high-quality resume.
In fact, building complex, prolonged resumes is one of our main features in which our writers excel. So, don't be afraid to place an order — as professionals ourselves we understand the needs of professionals really well.
Can I hear from actual ResumeEdge clients who have used the service?
You are more than welcome to visit resumeedge.com/reviews to access ResumeEdge clients feedback about our services.
Why ResumeEdge is a good resume writing service?
We are a team of professionals dedicated to bringing you the best online resume service. Having over 23 years of experience, we've accumulated massive knowledge about everything resume-related.
Our team provides professional help with resumes, cover letters, and LinkedIn profiles. No matter what sphere you want to enter and what experience you have, we are always ready to give you a helping hand. With an over 98% customer satisfaction rate, we will provide you an exceptional service, suited to your needs.
What is ResumeEdge service about?
When writing the resume, the personal touch is what really counts. In ResumeEdge, we treat each customer individually, examining every case carefully. We know that you have your own unique story and will help you present it to your future employer in the best possible way. Your education, work experience, personal qualities — we can help you to elevate every feature of your background that would allow you to land your dream job.
Our resume writing service employs skilled writers, providing you with high-quality service at an affordable price. We provide not only resume writing service, but also other resume-related stuff. But most importantly, our professionals find a personal approach to every client, closely examining each new case, working together with you to fulfill your career dreams.
What qualifications do ResumeEdge writers have?
Our team consists of 50 writers. Each of them excels in different spheres of knowledge, but professionalism is the unifying trait of our resume writing service.
Most of our writers are job coaches with huge experience, which they constantly expand by doing market research, and following the latest trends in the job market. With a huge choice among writers, we will surely find someone who would match your needs exactly, giving you a professional experience of online resume writing.
How much does it cost?
We want to make our services affordable for the biggest amount of customers possible. Our resume writing service cost mainly depends on the client's experience, determining the scope of work, and the type of service that we provide. Here are our average prices:
Can I have a discount?
With your first order, you can get a 10% discount. Just ask our sales team to send you the discount via chat. We will also provide many other discounts and offers for your next orders.
Why do I need resume writing service?
There may be multiple reasons why you might have started searching for help with a resume. Perhaps you are looking for an improvement in your career prospects. Or, maybe you are entering a new professional sphere and want to get an effective jumpstart.
It might also be your first resume that you are building, and you want it to be really perfect. Regardless of the reasons, our resume writing service is capable of giving you a helping hand, providing professional assistance in online resume writing.
Why to choose ResumeEdge?
To start off, it's the quality that we consider our main benefit. Having a huge choice of experienced writers with a background in different fields, we are ready to offer a diverse experience, depending on your needs and wants. However, apart from quality, our service includes affordable, flexible pricing, along with small deadlines and direct communication with the writer.
Our deadlines start from two days, so we can take even the most urgent projects. And in case you wish to double-check and make sure that your resume would be absolutely stunning, we can work on it for up to 14 days, providing you with an elaborate work that would hit all the necessary targets.
Direct communication with the writer allows for a smooth workflow and puts you in control of the process. You can quickly clarify any question regarding their work with them directly. No matter how complex your order might be, your writer will help you and offer the best resume writing service.
Is the resume writing service worth it?
Well, to be honest — it is! Building a professional resume with the help of skilled specialists will significantly increase your chances of getting a job you are dreaming of. Our writers are professionals in the sphere of resume writing and they will pay attention to every detail, providing you with an exceptional result. Whether you are an experienced professional, or just starting your career path — building a high-quality resume is equally important for both cases.
While our resume writing service is not free, it is a great investment in your future, as well as an opportunity to work alongside skilled experts, getting valuable experience on resume writing and resume-related tasks. This is the truth for 98% of our customers, and we really hope that you'll become one of them!
How to pick a resume writing service
To make the best decision, you must first understand your requirements and starting point. If the job you're applying for demands a resume, and you have one, but aren't sure if it's fit for the job, you should use a resume editing service.
If you need a resume or CV, select our resume or CV writing service, and we will assist you in getting your desired position.
Does every job seeker need professional resume-writing services?
Because the labour market is so competitive these days, it's vital to present yourself in the best light possible in order to get a good job.
The resume is the primary document that represents you and allows you to be invited to a job interview. Without any doubt, it is crucial to write it in the most professional manner possible in order to achieve the intended result.
Do you write or edit resumes for customers outside the United States?
Our service area has no bounds — but our language barriers do. Our customer service representatives and resume writers are not multilingual at this moment, but we welcome English-speaking clients from all around the world.
We'd be pleased to work with you if you submit your resume in English. Here you can compare our products to find the one that's right for you.
Why do you need a professional resume editing service?
There may be multiple reasons. In some cases, you might want to be 100% sure that your resume is ideal. Perhaps you need resume editing to make your resume more informative.
Or, maybe you're not sure how to include your new experience into your resume in a most effective way. Regardless of the reasons, our experts are always ready to answer your question: "Can you edit my resume".
How does the process of resume editing go?
In essence, everything is quite simple. In resume proofreading service or resume editing service, we place the emphasis on speed and quality. That's why the editing process is fast and efficient.
Step 1. Place the order and fill in all the necessary order and payment information..
Step 2. Send us your requirements and instructions along with the resume material that you have.
Step 3. After analyzing the instructions we will come up with the resume writer most suited to your needs.
Step 4. As the work on your order progresses, you can monitor it by communicating directly with your writer!
Step 5. As you receive the final draft, you can ask for any corrections to it within the first 14 days.
Step 6. Your resume is ready in line with the deadline and your requirements. You can start looking for a job right away!
Who will edit your resume?
We have a team of skilled editors, with high proficiency in various career spheres. With more than 23 years of experience, our writers and editors have gathered enough experience to provide you with the best resume writing service.
Together with you, they will examine your resume, searching for the focal points that would certainly attract your future employer.
What about the resume proofreading price?
It depends on the type of service that you'll choose. A simple resume editing costs as much as $80, but there's a lot of features you can take with your resume: from design to cover letter writing. All of these features increase the "strength" of your resume greatly, so make a wise choice!