Data Analyst Resume Sample
Data analysts have always been in great demand in the labor market, according to the platform Indeed. Our world is dominated by data, and the sheer amount of information always overwhelms even business gurus. Almost every industry needs a specialist who can process information and, even more so – to benefit from it and report on actions worth taking. The challenge for data analysts is to find answers to questions that have not even been formulated.
Recruiters are also kind of data analysts. Despite the different areas of these occupations, the recruiter can quickly assess and process information about the applicant. Choosing a reliable person is not the most straightforward task, and all applicants are screened very carefully. The ResumeEdge understands the seriousness of this matter, we do our work efficiently, with an emphasis on results. For you to be convinced of this too, we attach a sample of a real resume of a data analyst from our practice.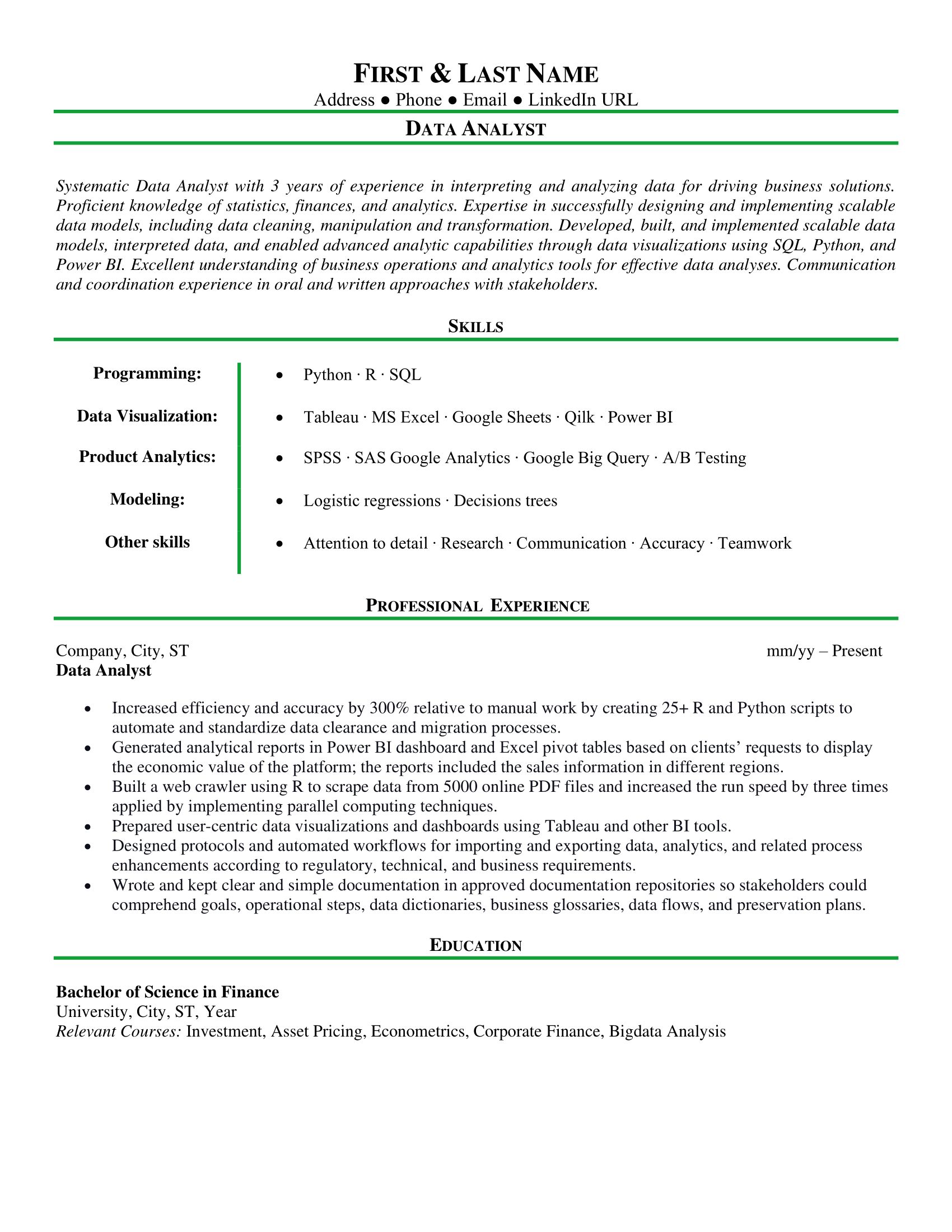 No doubt that large companies that put professionalism above all else and truly value the scientific approach to such work are critical of hiring. Therefore, to become the driving mechanism of the company, which could take the business to a new level, it is necessary to draw up a high-quality resume.
How to make your Data Analyst resume stand out?
The data analyst should understand, like no one else, that the confirmation of information must always be present. That means, if you pass yourself off as a professional, then your resume should all the more correspond to this status. Thus, this "document" should be done as follows:
List all programming languages ​​you know, even if they are unpopular
Tell about your project management skills
Share your achievements with visual examples of situations, tell about past work experience
Indicate your degree and certificates
Mention your best qualities in a short summary
Set yourself apart from the crowd with a unique skill: advanced data analysis, the ability to create different models, etc.
Use consistent formatting
Insert keywords into your resume to match the ATS
Now you know how to write a resume for a data analyst best. These tips are quite challenging to mix and match overnight. It will also be difficult to evaluate your resume from the outside. The ResumeEdge team is ready to offer its services. We will improve not only confidence but also the number of responses to your resume.