Product Owner Resume Sample
A product owner is a position that has not lost its popularity for years. In software development, these people play the role of a user representatives. Thus, they analyze the target audience and their needs, and then, working closely with the development team, they try to improve the product and take on the backlog. It is by no means all about the product owner. In fact, the product owner decides what exactly the final product will be and determines its whole concept. The specialist distributes areas of responsibility, combining the roles of a business strategist, market analyst, product designer, and client too! They also must have technical skills as well be aware of the needs of the user.
Now product owner is a very sought-after profession, for which many requirements must be met. So you need to be a certified specialist. The Professional Scrum Product Owner certification has several levels. For example, PSPO I shows that you understand the Scrum Framework and can apply your knowledge to maximize product value. While PSPO III makes you a high-quality professional who can manage the product backlog competently and interact with all stakeholders. But at the same time, the reward for your work will be worth it. The minimum salary for a product owner is $50,000 per year. As you gain more experience, you will become more and more in demand. According to Indeed, these professionals earn over $100,000 a year on average. Bloomberg provides the highest wages to its employees. They earn about $170,000 a year. The salary will also vary depending on the state you work in. For example, New York has the highest rate among product owners, at approximately $125,000.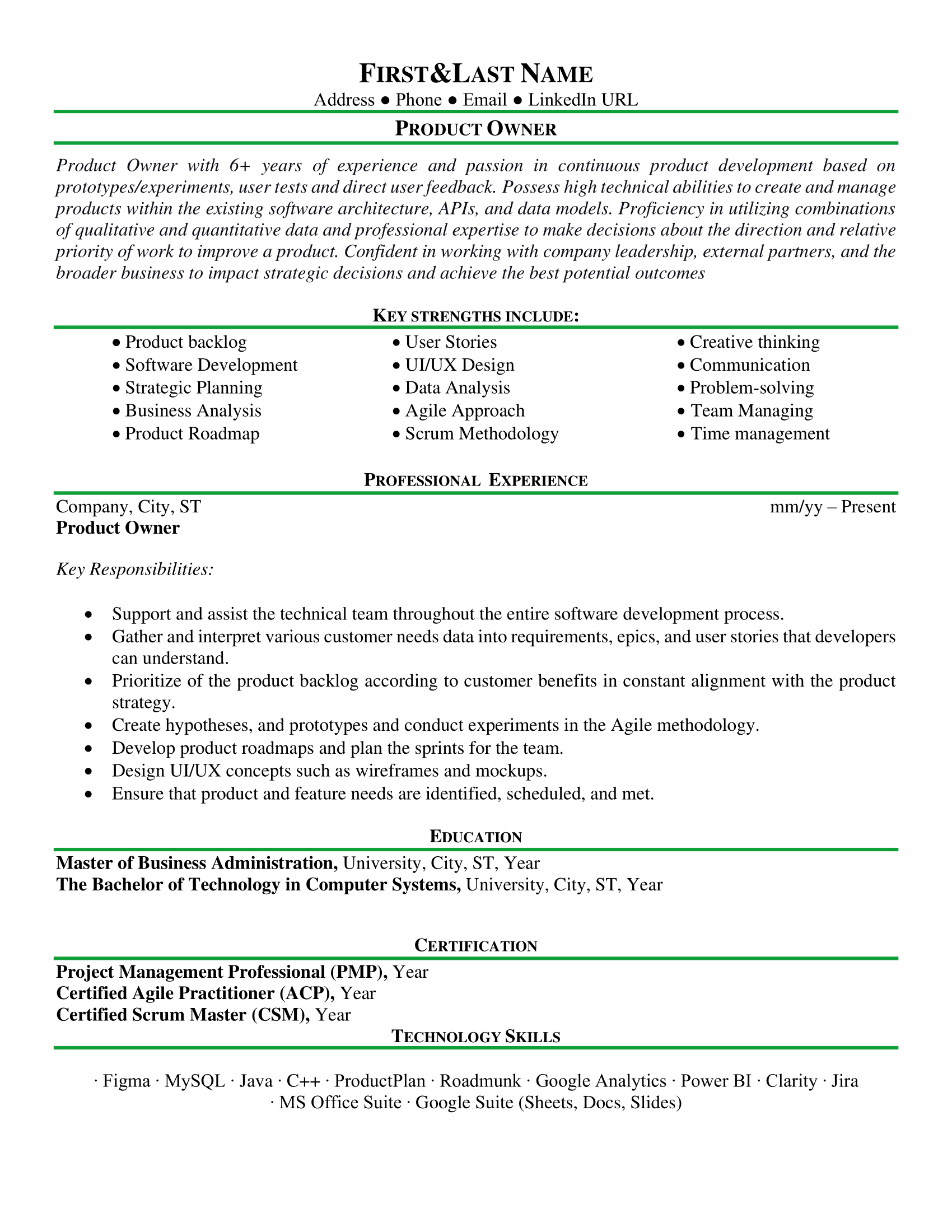 As product owner has become an incredibly competitive and in-demand profession, companies have become more and more demanding. Revisiting typical product owner jobs, writing a resume is one of the challenges, as you must display all of your skills and accomplishments in one or two-page format. At the same time, your document must comply with the ATS requirements. As a resume writing company, we often find ourselves in a situation where a candidate doesn't know what a sample product owner's resume should look like. That's why we offer you an example of a simple format that communicates your benefits without further ado.
How to Make a Successful Product Owner Resume?
It is vital to adhere to all requirements for a high-quality resume. For example:
Make readable text and acceptable fonts like Arial, Times New Roman, etc. Avoid colorful calligraphic fonts that make reading difficult.
Save your resume in multiple formats. However, please note that PBX systems cannot always read PDF files correctly, so a lot of information may be reformatted incorrectly. It's best to stick with the Word file.
Use as many keywords from the job as possible.
Use bullet lists instead of bulky designs. Keep sentences as short as possible without cutting out important information.
Always make the contact section visible to the recruiter, including a phone number and an email address.
Focus on experience and skills. It is not necessary to indicate your hobbies, volunteering, or any additional courses if you have enough information available.
Sometimes you can avoid writing an objective to save more space for other, more important information.
Despite all the advice, it is important to compare your result with a sample so that your information meets all standards. Don't forget to proofread your resume for any mistakes. Check with the requirements and avoid informal words. However, if you really want to increase your chances of getting a job, why not trust ResumeEdge?