Sales Manager Resume Sample
Sales is one of the most important tasks for most companies. High pay and responsibility for the whole department make the sales manager a virtually irreplaceable position in any business. Therefore, for a recruiter to select a reliable and responsible person is a big challenge, and the first stage of "selection" occurs through the resume. Hence, a job seeker needs to build the resume in such a way as to rivet the recruiter's eye. Oddly enough, the task of such a person is to "sell" the skills in the most profitable way. ResumeEdge has great experience in creating outstanding resumes, and this is reflected in the number of calls and interview invitations. To confirm our words, we suggest looking at a real sample of a sales manager vacancy.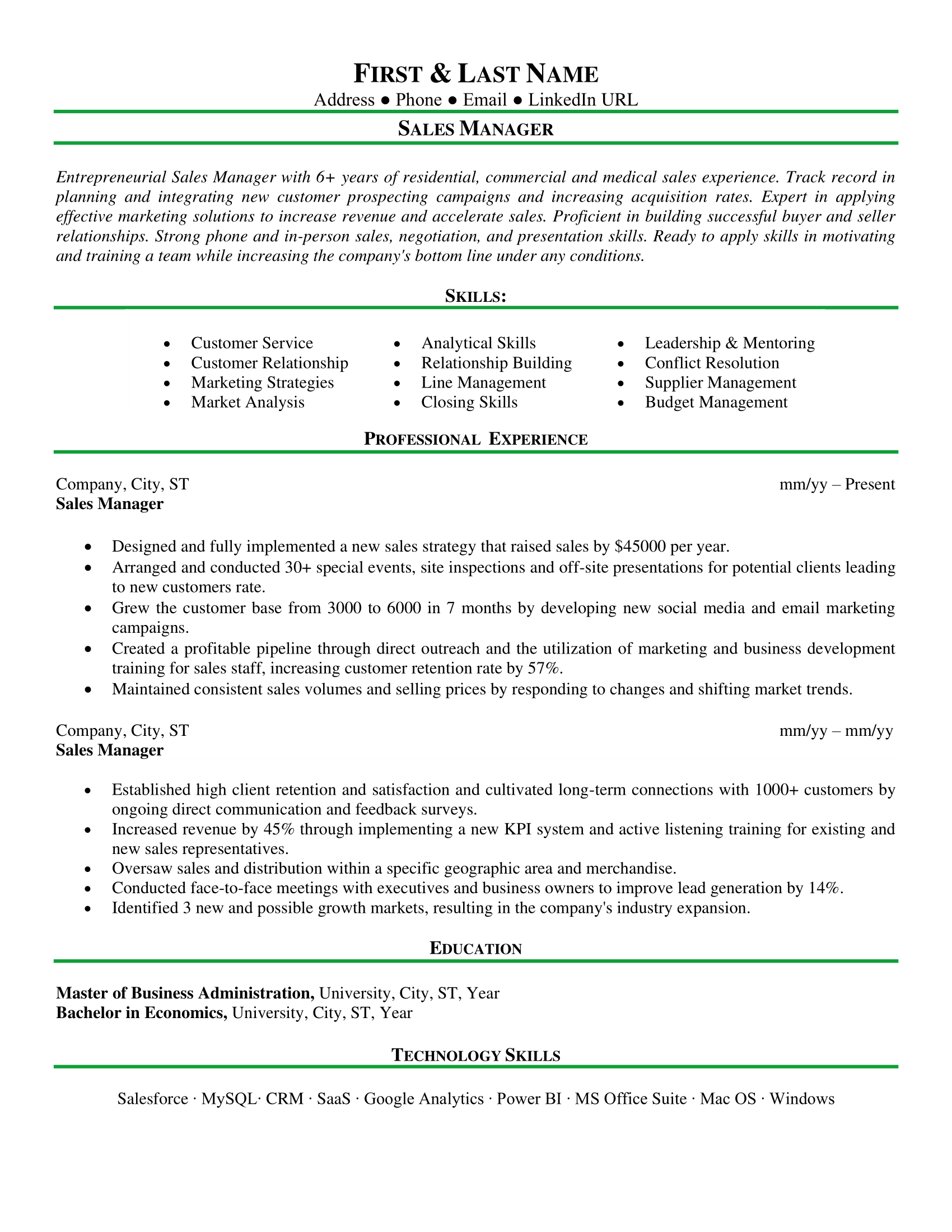 The demand for sales managers is growing by 4% every year, according to the official statistics. The big excitement around the position of a sales manager only confirms the theory that this job is quite promising, which means that there are enough competitors for it.
The job of the sales manager is to lead the sales departments of the organization, which requires certain leadership qualities. Using statistics, you can easily find out that even the average hourly salary of an ordinary sales manager is $ 63 per hour, which is approximately $ 130,000 in annual salary, making this position even more desirable for the applicants.
What is the best way to create a perfect Sales Manager resume?
The recruiter would probably like to see a resume that is honest, but also attractive at the same time. Usually, this effect is not easy to achieve, but here we offer you a checklist of some tips:
Highlight your greatest strengths at the beginning
Don't use flattery. This immediately stands out among other text and the desire to read the resume further simply disappears
Use a convenient, readable text format
Create a detailed list of your skills matching to the sales manager position requirements
Describe your education and certificates received
Highlight the achievements from your past job that was of great importance to the team
Include only the most important information about you in the summary
Tell about your main objective at aimed job
Looking at the sales manager resume example and a checklist we made for you, you can start creating your own one. However, giving your resume a special flair and showing off can be a daunting task. In any case, the ResumeEdge team can assure that the resume will be done in the best possible way. The experience and professionalism of our team will help you get a high number of responses