A Functional Resume Guide
When looking for a job, a seeker writes a regular reverse-chronological resume, in which he consistently indicates his entire employment history. This format helps recruiters see where the person worked, giving them a rough idea of how the future career will go. It is the simplest and most common way to indicate the candidate's significance. But not all careers are moving in a straight line.
Oftentimes, people change occupations, make mistakes, and experience falls. A reverse-chronological resume format will not be the most convenient way to talk about their skills. This type of document, on the contrary, will confuse HR, or even create a negative impression of a person. The familiar format is also not suitable for people who do not have experience in a similar position. Or, they may have been taking a long break from work, or they may not have any traditional work experience at all. So wouldn't it be easier to share the skills specifically without worrying about your employment history? After all, it is more important for recruiters to know how the aspirant will benefit the company with their skills. In that case, it is better to look for a functional resume.
What Is a Functional Resume?
This document format is also called a skills-based resume. The definition of a functional resume is an extract that focuses specifically on your skills and knowledge. The trick is that instead of writing your usual reverse-chronological resume, you pick the most important responsibilities from your past jobs. It is very important to be able to structure these skills so that they look appropriate.
As with a regular resume, you need to include your name and contact details, as well as technical skills, and, of course, education including relevant certificates.
The difficulty of the functional resume format is that it needs to be tailored specifically for almost every desired position since you only indicate the skills that are needed specifically for this position. With a functional resume, you can focus on your skills, and more importantly, on the results. However, despite its appeal, an unprofessionally written, functional resume can raise strong suspicions among recruiters.
When To Use a Functional Resume?
There are a lot of situations when a functional resume is advantageous:
You have no recent experience. Perhaps many years have passed since your last job, or you don't want the recruiter to look at your job history in the first place.
When you make a risky leap in your career. If you have been accumulating some skills for a long time and now you want a job that would correspond to your level of knowledge.
When you have little work experience. For example, if you have accomplished a lot in your student years, or if you have done a lot of volunteering, but now you want to highlight essential skills from your charitable work. Or you just haven't worked yet.
If you have a lot of short-term positions. You cannot organize a regular resume and make it more coherent.
If you want to make your hobby or interest your main job. In this case, experience in other areas will simply be less relevant, because it is worth indicating only what will be useful in the desired position.
However, this format also has its drawbacks.
Functional Resume Disadvantages
In general, a functional resume can be perceived as a red flag, HRs may think that you want to hide something, or your qualifications are insufficient. In the end, recruiters are interested in learning everything about an applicant, especially in their working experience, including the information about the companies and the positions held. They need to know exactly what results you achieved there. The information about the experience is not well structured in functional resumes. Moreover, this type of document is less common than a regular resume, so HRs can easily get confused by the information provided, as they are used to quickly searching for the data they need.
How To Make a Functional Resume
If you decide to create a document of this format, then you need something like a functional resume template that you will follow. However, the problem is that each profession requires its own, and therefore there is no universal functional resume example.
Related: Why Do You Need a Great Resume?
However, we have prepared some tips on how to make a worthwhile skill-based resume.
Determine the desired position. After all, this is the only way you can find the right formulation of skills. Also, exclude words that are specific to this position.
Choose key skills. There should be 3-4 skill sets that can be backed up by achievements.
Write a short employment history. Use the section very briefly, indicating only all the data about your job: how long you worked there, position, state, and the full name of the company. Besides, do not forget to mention your internships and volunteering.
Add additional information that will be very helpful. These can be projects, courses, education.
Functional Resume Example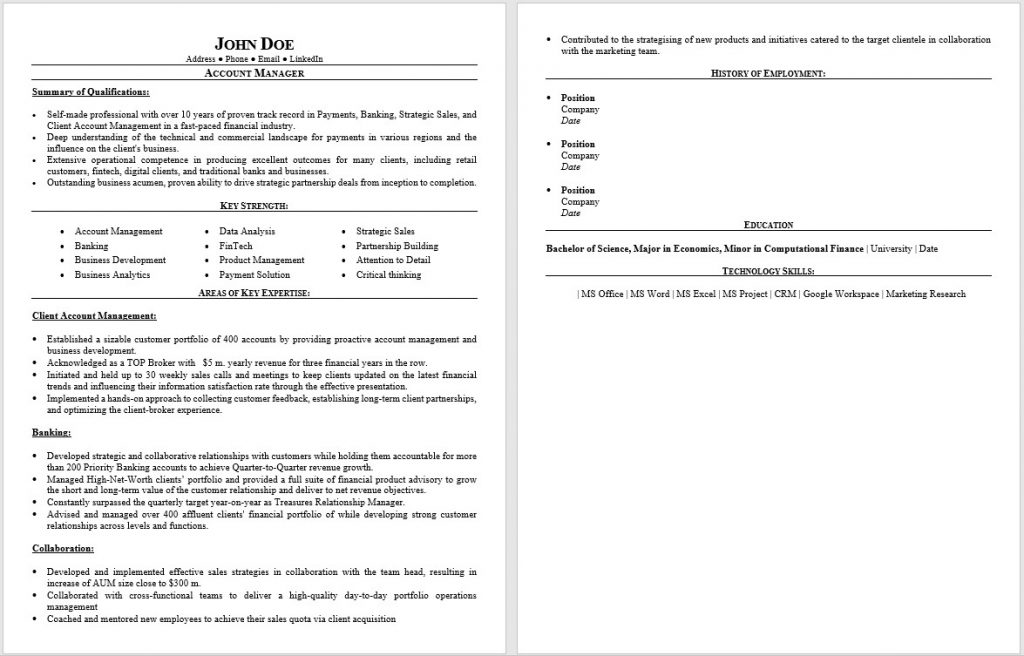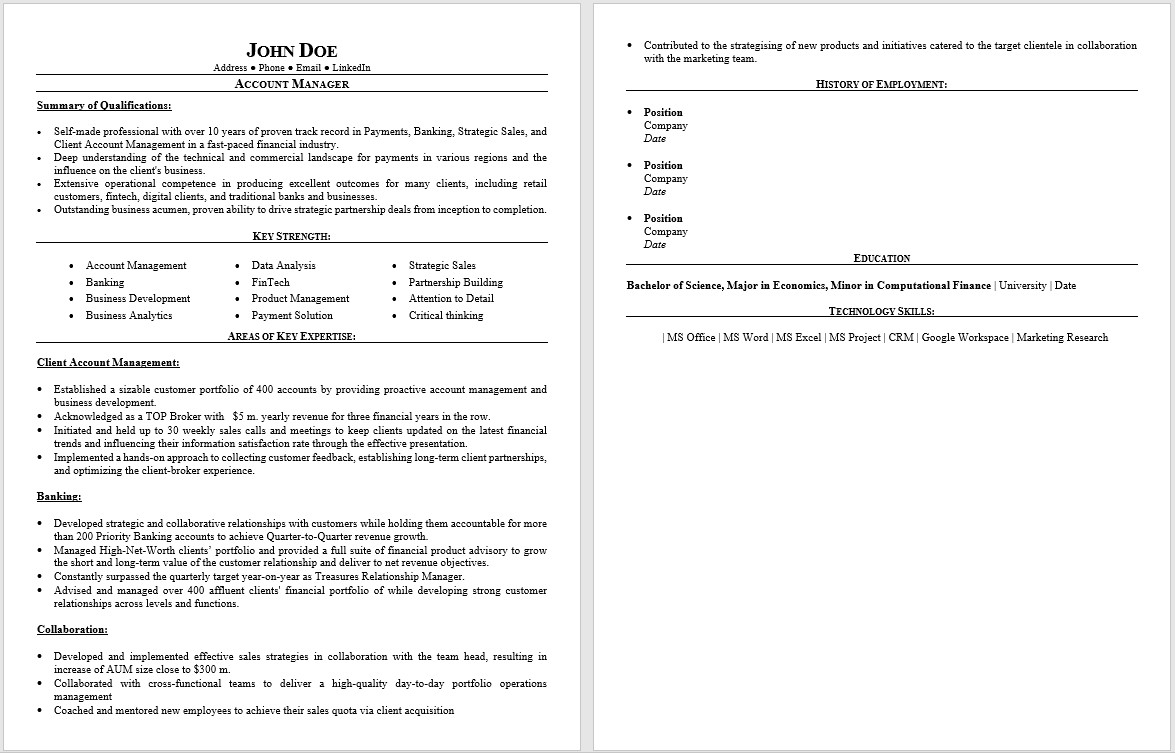 Last Words About The Skill-based Resume
Perhaps this document will seem very difficult to you from a writing point of view. However, remember:
Use only a simple, professional font
Design your resume to fit one or two pages (learn more about how long should a resume be)
Be laconic
Highlight keywords and headings
It is also important to understand that your main task is to sell your experience for the desired price. When it comes to your resume, which is also an alternative to the regular one, you can make huge mistakes. Starting from a disadvantageous position can only make matters worse. Therefore, you need a solid outline, write a strong cover letter, or someone capable of convincingly writing functional resumes. You can always contact our ResumeEdge team, which can professionally handle this task, as we have extensive experience in writing functional resumes. Our skilled writers who are professionals in over 60 fields can improve the number of your interviews.