Resume Writing
Make your job search more effective with a cutting-edge resume
Our professional writers create resumes that grab attention of recruiters and potential employers. Get your job-winning resume in a short deadline and at an affordable price.
Go to order
Price starts at 100$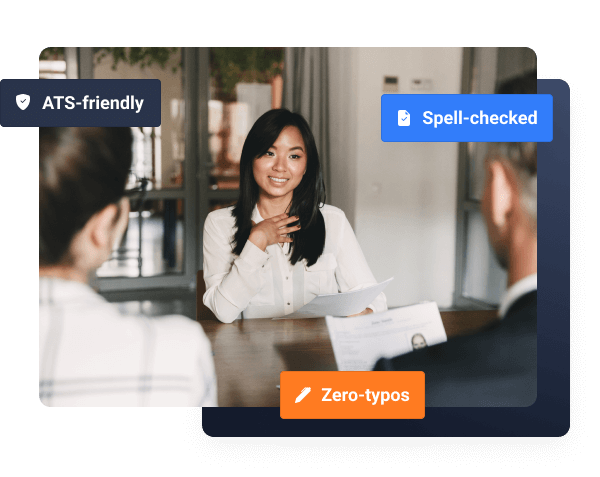 After sending the resume prepared by ResumeEdge expert our clients
Receive

more callbacks

from recruiters

Get 2x

more job interview

invitations

Land the desired

position faster
Why our resumes bring results?
We pair you with the writer in your niche

The resume should represent your strongest competencies for both the recruiter and future employer. It's impossible to write a comprehensive resume without deep knowledge of the job industry specifics.

We make the resume YOURS

There are hundreds of identical resumes with the same phrases and basic accomplishments that do not attract. Recruiters want to know who you are as a professional and what you stand for.

We write ATS-friendly resumes

75% of resumes don't pass ATS due to the wrong format or lack of keywords. The writer makes sure your document has the most vital features to get a positive score in the applicant tracking system.
Pricing plans
Increase your chances to land a job with our packages
Most popular
Advanced
Resume Writing
Cover Letter Writing
LinkedIn Profile Writing
Go to order
Professional
Resume Writing
Cover Letter Writing
Go to order
How it works
Take 3 easy steps to get your job-winning resume

Step 1
Send us your instructions
Complete the order by filling in your order and payment information. Send us your instructions and attach previous resumes or other documents.

Step 2
Communicate with a resume expert
You start one-to-one communication with your resume writer via our messaging board.

Step 3
Get your order
Receive your top-notch resume and other documents strictly to the deadline.
Send us your instructions
Complete the order by filling in your order and payment information. Send us your instructions and attach previous resumes or other documents.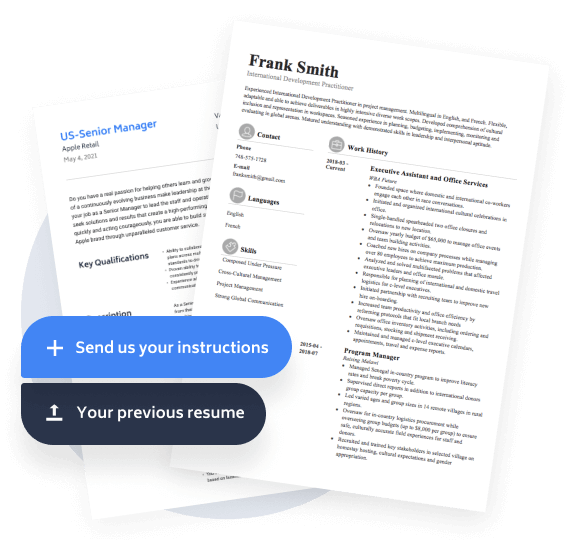 Communicate with expert
You start one-to-one communication with your resume writer via our messaging board.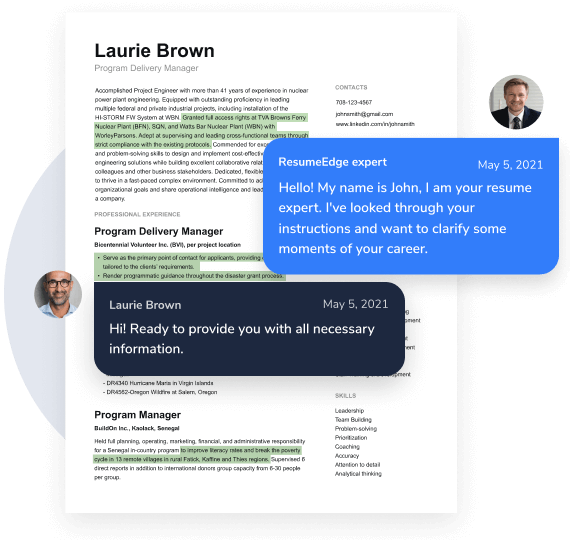 Get your order
Receive your top-notch resume and other documents strictly to the deadline.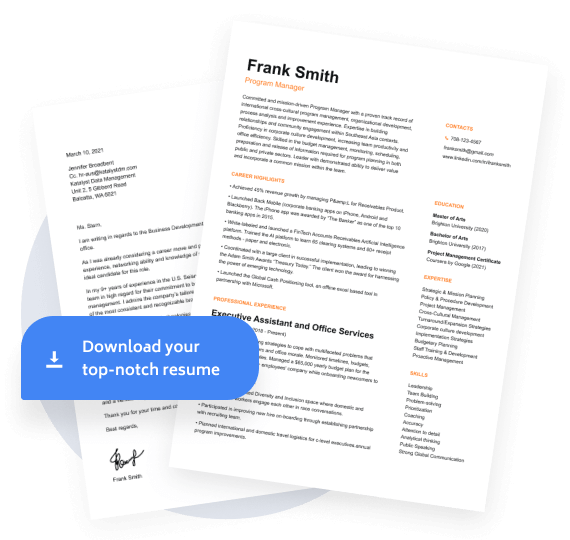 Frequently asked questions
General Questions
Resume Writers
Guarantees
Resume Writing
How does the resume writing process work?
We will start our cooperation by getting all the necessary information on your skills, education, and experience that is required for a professional resume writing. You can send us all of the requirements along with the valuable info through an order form.
After you have placed an order, we will get in touch with you as soon as possible to finalize the details and to decide on a writer that would be working on your order. You will have the final say in the writer selection process.
You can communicate with the writer directly as the work progresses. After receiving the final draft you have a guaranteed right to ask for any corrections during the first 14 days. When everything is finalized,you can start applying for the jobs right away!
What's the difference between resume and CV?
A resume includes the overview and the summary of your skills and cannot exceed two pages. It is a brief document, meant to give your employer an overall review of your skills, capabilities and competences. The main qualities of the resume are the briefness, informativeness and clarity.
CV, on the other hand is a more detailed document which goes into all the details of your education and experience. In a certain way it is an expansion of your resume. The CV elaborates on the main points that you have previously mentioned. It is a much longer paper which is written to be thoroughly examined- a must-have for many jobs,especially in the academic sphere.
How much does a professionally written resume cost?
Our resume writing service calculates the prices for each order differently. There are several components that go into the final price. The most important of them are the deadline time, the complexity of the work and the type of resume.
The price is always discussed with our client before the work starts so it is always possible to find the optimal solution in terms of the costs. We have also developed a fixed price list for the most common resume writing tasks.
Do I need a new resume for every job?
If you apply for the same position in different companies, having one resume is enough. But it is necessary to check if it suits the requirements at each offer.
It is better to target your resume for each job position you apply for in order to make it more relevant to the needs of the organization.
Should I put my photo on my resume?
In the United States, the United Kingdom, and Canada, it is not appropriate to include a photograph on a resume. Because these countries are biased, do not send a résumé with a photo.
Employers who are concerned about discrimination claims frequently reject resumes that include photos.
You keep mentioning ATS (Applicant Tracking System). What is it?
An applicant tracking system (ATS) is a type of software that is used in the recruitment process to sort out resumes that do not meet the job requirements.
Recruiters save time since they only receive resumes selected by the ATS. Candidates must follow rigorous standards when preparing their resumes to pass these systems.
Can ResumeEdge's resume pass an ATS scan?
ResumeEdge writers are skilled and have rich experience with writing resumes that pass ATS scanning systems. We know how to make your resume ATS-friendly so it can get into the hands of a recruiter.
Our resume writers' qualifications
With the 98% customer satisfaction rate, our resume writers are extremely experienced in their fields. With 50 professional writers currently employed, our service provides resume writing for a variety of jobs.
Gaining more experience with every completed order, our professionals are constantly expanding their knowledge and updating their skills. Such an approach towards work allows them to be some of the best-ranking professionals in the field of resume writing. With a huge selection of writers you can be sure that we'll find a professional suited exactly for your needs.
How can I keep in touch with my writer?
We believe in the clarity of service and that you should have complete control over the writing process. That's why our service provides direct communication with the writers throughout the whole time the writer is working on your order.
You can talk directly to your writer via our dashboard. The communication is completely safe and confidential. What is more, in case there's any problems not related to the resume writing process, our support team is also available for you to contact at any time.
Guaranteed successful job application
We are confident in the quality of our resume writing. Our clients are getting positive results.
With the professionally written resume, created specifically to suit the job you want to apply for, you can be confident about your success as well. The experience of our professional writers and the customer satisfaction rate allow us to guarantee you will get a job within 30 days after applying with the resume written by our online resume writing services.
If for some reason this doesn't happen, we are ready to help writing a resume that would be even better for you completely free of charge.
Other Guarantees
On-time delivery. We are dedicated to bringing your order in time, no matter how tight the deadline might be.
Quick resume writing ordering process. The orders can be done easily through our order form.It takes us little time to process the order and come back to you with our proposals on the writers.
Communication and support. We provide customer support all the way through your order. You will be able to speak to the writer directly and access the support team at any time.
Secured payment methods. All the payments are done through our protected system. We employ a transparent policy on all the finance-related issues.
Confidentiality. We value the privacy of our customers highly. Our company doesn't store or sell your data to anyone and the cooperation process would only include personal details where it is absolutely necessary.
What If I Don't Like the New Resume?
In case you are not satisfied with your resume you need to contact your writer in the first 30 days after receiving it and explain why it does not fit your requirements. We would be glad to rewrite your resume in the most professional way possible.
When will I receive my resume?
The terms of the resume writing service vary according to the package you select. We provide a variety of solutions with different prices. The shortest time to prepare a resume is 48 hours, and the longest period is 14 days.
Does ResumeEdge provide resume writing for specialized fields?
ResumeEdge professional writers are competent in more than 40 professional fields. We can create an impressive resume for any particular niche you need. Our policy is to assign each order to a writer who is experienced with the client's industry.
How many revisions do I get with my resume?
After completing the questionnaire, you will receive an initial draft of your resume on time and in accordance with your chosen deadline.
The number of revisions you work on with your writer is determined by the service you choose. Within 30 days of the order's completion, you can request adjustments.
In what formats will I receive my new resume?
All documents are delivered in Microsoft Word or PDF format. You will also receive a text-only (ASCII) version. Because ASCII files are unformatted, you can copy and paste them into emails and online forms with ease.